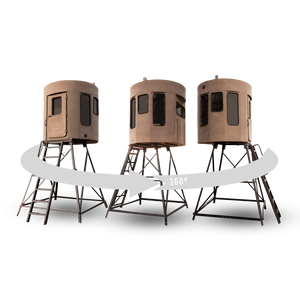 STUMP 4 LIMITED EDITION 360° 'PHANTOM'
Regular price $3,999.00 Sale
STANDARD FOR 2023 – We went to the drawing board to solve the age-old problem of keeping concealed in the blind, while still being able to see the action happening all around. Designed was the 'Phantom Edition' – your favorite Stump blinds featuring a tinted framed window. Built with every lighting situation in mind, the tint allows you to stay visually concealed inside your blind, while still being able to see out, from dawn until dusk.
Your 360-degree view just got even better. New for 2021, the 'Limited Edition Stump 4 360°' boasts eight silent-swinging framed windows creating the ultimate panoramic view. This blind is available as a fully equipped 'Pro Hunter' or standard Stump 4 model. With over 30 sq ft of room inside, the family-friendly 'Stump 4 360°' is perfect for filming hunts and viewing wildlife from every direction.
*This item is delivered via Semi-Truck. A lift gate fee may be necessary after checkout if purchaser does not have a way to unload item from the truck. Banks Outdoors will be in contact with you after purchase.